Devine Baseball Proudly Sponsors
Lanier High School

Flowery Branch High School

Mountain View High School

Mill Creek High School

Buford High School

Dacula High School

Hebron Christian Academy

Welcome to Devine Baseball
A Gwinnett Baseball & Softball Training Facility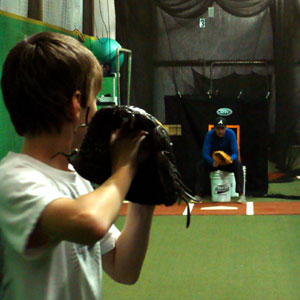 The staff at Devine Baseball is dedicated to implementing an atmosphere where all ages and skill-levels can thrive. Our aim is not only to improve every aspect of the game, but to make each individual a better, smarter and more confident player. Devine Baseball offers private lessons, team lessons, camps, clinics and various other forms of private instruction for baseball and softball. Devine Baseball also provides batting cage rentals, and batting cage rental packages, for individuals, groups and teams.
Devine Baseball is staffed by employees with years of instructional baseball & softball experience. The facility is located in Buford, Georgia but many of our clientele come from surrounding areas such as Lawrenceville, Flowery Branch, Mill Creek, Dacula, Winder and other cities throughout Greater Gwinnett and Metro Atlanta. Devine Baseball is quickly growing a reputation as one of the premiere training facilities in North Georgia yet our focus remains on providing outstanding service to each and every individual.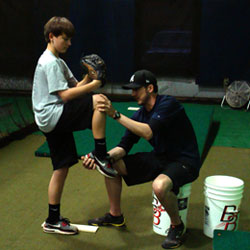 Private & Team Lessons
The most effective way for a player to improve their game is through private lessons. At Devine Baseball our staff is dedicated to helping each player maximize their skills with specific training geared toward their individual abilities and needs.
Devine Baseball offers private lessons utilizing game stat review, training drills and video analysis to fine tune pitching, hitting, catching, and fielding. Our private lessons are available for all ages, from all of our instructors, year round.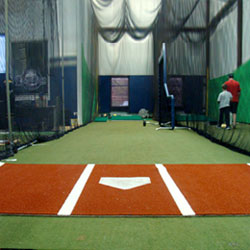 Indoor Batting Cages
Devine Baseball offers a variety of batting cages for baseball and softball training at all age and skill levels. Our pitching machines range from 25-85 MPH. Cages also vary in size to provide options for hitting, pitching, and fielding for teams, groups and individuals.
Batting cage reservations are recommended. We can also help you decide on the proper cage for your training activity. Balls and screens are provided to facilitate multiple training exercises.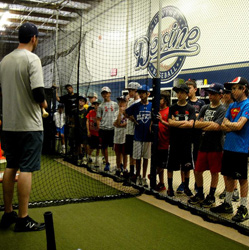 Camps & Clinics
Devine Baseball Camps & Clinics feature core baseball instruction in a group environment that focuses on the fundamentals of the game, with customizable, position-specific baseball lessons. The core baseball camps & clinics include position-specific drills, situational practice sessions and live games, as well as baseball-specific physical conditioning and mental conditioning. Camps & Clinics are offered frequently throughout the year. Contact Devine Baseball or check the website to see when camps & clinics are scheduled.