Our training & instruction is built on teaching, improving, developing, and maintaining the essential fundamentals, skills, mechanics, and mindset of every aspect of the game. We try to develop the mental and physical skills necessary to meet and exceed any athlete's goals and potentials. We have trained youth players, high school players and those at the collegiate level. We use specialized techniques, methods, programs, drills, and equipment, many of which are used at the collegiate and professional level and are proven to be successful. We focus on the mechanical side of the sport: how to swing, throw, field, run, etc., as well as, the development of coordination, flexibility, balance, strength, and reaction skills. We also provide equal attention to the often overlooked mental side of the game: how to think, act, react, etc. in potential game situations.
Schedule Lessons
Reserve Cages
Contact Us by Phone, Email or Web
To Schedule Lessons or Reserve
Batting Cage Rentals
Private Lessons Available For:
 Hitting Instruction
 Pitching Instruction
 Catching Instruction
 Fielding Instruction
 Throwing Instruction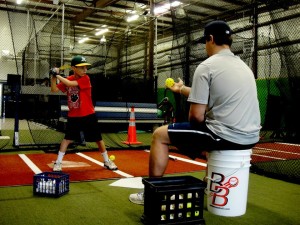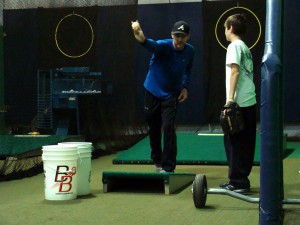 Devine Baseball's experienced baseball instructors work with athletes of all ages to improve upon their technique and understanding of the game. Great focus is given to the player's physical and mental conditioning, along with proper body mechanics.
 Stance
 Footwork
 Proper Mechanics
 Strength & Conditioning
 Mental Conditioning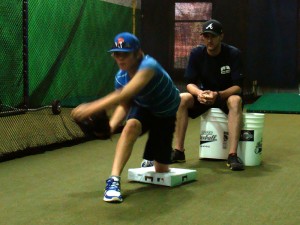 Private Lesson Pricing
| Session | Price |
| --- | --- |
| 30 Minutes | $50 |
Private Lesson Package Pricing
| Sessions | Price |
| --- | --- |
| 2 Hours 30 Minutes | $225 |
| 5 Hours | $425 |
2.5 hour Private Lesson Packages must be used within 90 days of purchase.
5 hour Private Lesson Packages must be used within 180 days of purchase.
Team Lesson Pricing
| Session | Price |
| --- | --- |
| 1 Hour 30 Minutes | $250 |
Team Lesson 1.5 hour session includes:
2 Instructors
2 Full Size Batting Cage with Pitching Mound
Team Lessons can be configured in any manner as seen fit by Coaches. Devine Baseball's instructors have found the best format for Team Lessons to be:
The team is divided into two groups of players who are then rotated by group between the two instructors. The smaller groups provided by this format allow instructors to better focus on individual player needs. Additionally, groups can be created by position so that instruction can be tailored to address that position ie. pitchers, catchers, fielders. It helps greatly if Coaches provide information about specific areas in need of improvement, or areas on which to focus, for the team and/or individual players prior to the session. This is a great opportunity for coaches to learn new drills and participate in player development.